PEACH ON FLATCATRADIO.COM
Join DJ Dave Strauss and his in-studio guest, singer/songwriter PEACH on FlatCatRadio.com - Sunday, May 23, 2010 7:00 PM - 9:00 PM PDT (End Time Estimated)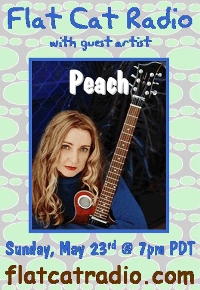 ---
PEACH PERFORMING AT OLD TOWN TEMECULA COMMUNITY THEATER
PEACH will perform at Old Town Temecula Community Theater at 8 PM on Friday, June 5, 2009.
---
PEACH NEWS ON ALL*ACCESS BLOG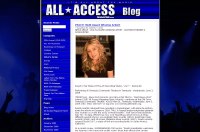 All*Access Magazine's Blog has news about PEACH.
It's archived in the REVIEWS section. Read it >>
---
PEACH GETS FRONT PAGE FEATURE ON BROOWAHA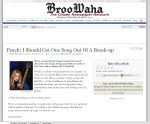 The September 15, 2008 article is "PEACH: I Should Get One Song Out Of A Break-up" by Gary Schwind, published in BrooWaha Los Angeles.
It's archived in the REVIEWS section. Read it >>
---
PEACH PERFORMING AT LOUIS'S FISH CAMP
PEACH will perform at Louis's Fish Camp in Las Vegas, NV at 8 PM on Friday and Saturday, June 13 and 14, 2008.
---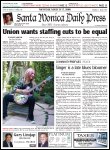 PEACH FEATURED BY SANTA MONICA DAILY PRESS NEWSPAPER
"Singer is a late blues bloomer" - Monday, March 17th
Read it >>

---
PEACH WINS "BEST BLUES ARTIST" AT ALL ACCESS MUSIC AWARDS
PEACH wishes to thank all her fans for their support and their internet voting. PEACH is the recipient of the award for Best Blues Group/Artist 2007 at All Access Magazine Music Awards held at the Knitting Factory, Hollywood, CA on November 03, 2007.
---
PEACH PERFORMING AT ARCADIA BLUES CLUB
PEACH and her full band will perform at the Arcadia Blues Club in Arcadia, CA on Friday, November 09, 2007.
---
PEACH REVIEW - WOMEN'S RADIO NEWS
PEACH'S album, "The Real Thing" is given a glowing review by Brian Ball, Music Editor for Women's Radio News.
---
PEACH NOMINATED FOR SEVERAL AWARDS - NEEDS YOUR VOTES!
PEACH is flush with award nominations from All*Access Music Awards and South Bay Music Awards. Follow the links to vote for PEACH in an impressive list of nominations that includes:
South Bay Music Awards
Blues Artist/Group of the Year

Female Vocalist of the Year
All*Access Music Awards
Best Female Vocalist - Rock, Melodic, Blues
Best Female Guitarist - Rock, Melodic, Blues
Best Blues Group/Artist - Rock, Melodic, Blues
Best Song Writer - Overall

Be sure to vote for PEACH for both awards and in all categories!
---
PEACH PERFORMING AT HOUSE OF BLUES
PEACH and her all-star blues band will perform at the House of Blues in Anaheim on Friday and Saturday, July 06 and 07.
---
PEACH COMPETES IN EMERGENZA FESTIVAL FINALS
PEACH will perform at The Key Club on Sunday, July 15, 2007 @ 8:30 PM for the Emergenza Festival Finals. At stake is an all-expenses-paid trip to Europe as determined by audience vote & music biz judges. Join the crowd and help PEACH WIN!
---
PEACH WINS ROCKWIRED FEMALE ARTIST OF THE YEAR! RADIO FEATURE THIS SATURDAY.
---
PEACH AT WHISKY A GO GO FOR EMERGENZA FESTIVAL
Wednesday, May 30th, 9:00 pm.

Advance comp tickets available.
---
PARTY WITH PEACH THIS SATURDAY NIGHT!
Saturday, March 24th from 9:00 pm 'til 1:30 am at Runaway Bar in Torrance.

Dance the night away with PEACH as she performs with Mike Turner (guitar, vocals), Ken Stange (keys), Tom Walsh (drums), and Steve Nelson (bass).
---
PEACH PERFORMING AT THE GIG IN HOLLYWOOD
Thursday, March 8th at 10:00 pm
PEACH will be be playing with her "hip-hop" guys: Minimalist - keys, Del Atkins - bass, Lance Lee - drums, Jimmy Roberts - sax.
---
---

PEACH FEATURED BY "THE DIRT" MAGAZINE
Check out the 10 page article and pictoral featuring PEACH! It's in the REVIEWS section. Read it >>

---
PEACH PERFORMING AT BLUE IN AGOURA HILLS
Friday, January 26th from 8-10:30 pm

Blue Bar
2017 Lewis Road
Agoura Hills, CA 91301 [map]
Phone: 818.889.8476
---
LIVE RADIO BROADCAST WITH PEACH
Thursday, November 30th from 10 am-12 pm on KUCI 88.9 FM - broadcasting over the air and online from University of California, Irvine. Listen live at www.KUCI.org.
---
PEACH IS PERFORMING IN LAS VEGAS
Performing on Friday and Saturday, December 8th and 9th, starting at 10 pm, with full band: Ken Stange, Tom Walsh, Jimmy Roberts, Eric T. Ward, guest guitarists Joey Delgado & Burton Zimmer.
Sand Dollar Blues Lounge
3355 Spring Mountain Rd., Ste. #30
Located at the southeast corner of Polaris Avenue
Las Vegas, Nevada 89102 [map]
Phone: 702.871.6651
---
LIVE RADIO INTERVIEW WITH BRIAN SPENSER
PEACH will interview in Las Vegas with host and producer Brian "Blues Dr." Spenser on Dr. Brian's Sin City Blues Show. The show airs Sundays, 6-8 pm on KUNV 91.5 FM, Las Vegas, NV. Request line: 702.798.8797
---
PEACH is playing every WEDNESDAY from 8-11 pm at the Runaway Bay in Torrance. Her house band is Ken Stange (Joe Cocker, Dennis Quaid) on keys, Tom Walsh (Joe Cocker, Dennis Quaid) on drums, and Eric T. Ward (Marvin Gaye) on bass. PEACH reports that it's a really fun and relaxed atmosphere, no cover, great hang... check it out!
Runaway Bay
4525 Calle Mayor
Torrance, CA 90505 [map]
Phone: 310.378.2777
---
PEACH will be performing every Friday in May at The Ritz-Carlton - Laguna Niguel. This is an unusual performance as PEACH will be playing jazz as well as R&B. Some of her newly written tunes will also be featured.
---
PEACH is pleased to be one of the headliners for Southbay Blues Festival to be held at the Normandie Casino, Gardena, California on Sunday, September 18th. PEACH's band will play from 4:00-5:30 pm. Other performers to include Zola Moon, Oscar Jordan, Jimmy Z, Deacon Jones. Guest guitarists Kimberly Allison and Joey Delgado will be sitting in with PEACH and her band.
---
Blues Rock Records is proud to announce that PEACH is endorsing a new line of guitars by Spirit Musical Products.
---
PEACH will be performing at NAMM show in Anaheim, CA on January 21-22, 2005 (look for her at the "Lace booth").
---
July 5, 2004 - The Los Angeles Music Awards announces the selection of PEACH - The Real Thing for "Blues Album of the Year" for the 14th annual gala to be held in Los Angeles, November 18, 2004.
---
PEACH releases her third album, The Real Thing, featuring a duet with the legendary Taj Mahal.
L.A.-based contemporary blues artist PEACH is joined on her newest release The Real Thing by a group of players that reads like the Who's Who of American rock and roll. On her latest album PEACH collaborates with greats like Taj Mahal, Garth Hudson (The Band), Paul Barrere (Little Feat), James Gadson, Lee Thornburg, Amos Garrett and Reggie McBride. This compilation of soulful original blues and jazzy ballads was produced by Marty Grebb, former music director for Bonnie Raitt.
The Real Thing CD is available for purchase from Amazon.com, Tower Records and Virgin Megastores.
---
PEACH and the Women perform at NAMM
PEACH rocks out with her high-powered all-woman band on the second dayof the 102nd Annual NAMM convention in Anaheim, California. Over 70,000 delegates in the music product and recording industry attended this four-day show.