MULTI-AWARD-WINNING ARTIST - GUITARIST/SINGER & SONGWRITER
PEACH
*Performing Locally: BIG FISH BLUES FESTIVAL - Sunday, Feb. 25*
(GLENDALE) - PEACH, award-winning Blues Rock Records guitarist/singer/songwriter (voted "Blues Artist Of The Year," LOS ANGELES MUSIC AWARDS and "Blues Artist Of The Year, 2006 SOUTH BAY MUSIC AWARDS), performs live at the 2007 BIG FISH BLUES FESTIVAL, taking place Sunday, February 25 at the Big Fish Bar and Grill, 5230 San Fernando Road, Glendale. Showtime 12:00 Noon-12:00 Midnite (Doors Open at 11:00 a.m.).Free Admission (Donation Requested). Info: (818) 244-6442. Also performing are Teddy Lee Hooker; Chris Bell & 100% Blues; Melvin Eddy; Jeff Jensen Band; Catherine Denise; Honey Davis; and Scott Detweiler. There will also be an All-Star Jam Session from 11 p.m.-Closing.
PEACH was recently nominated in the "Best Blues Artist" category of the 2006 All Access Magazine Music Awards, that took place in November at the renowned Knitting Factory in Hollywood.
PEACH fronts an all-star band consisting of keyboardist Jim Calire (known for his work with America and Raven); drummer Tom Walsh (Joe Cocker, Tina Turner, America, Supertramp); and bassist Del Atkins (Lou Rawls, Jessica Simpson, Gladys Knight).
The Los Angeles-based musician has an impressive body of recordings to her credit. THE REAL THING, released in 2005 and produced by studio ace, Marty Grebb (Etta James, The Band, Bonnie Raitt), features a duet on the title track with Grammy winner, Taj Mahal. Among the notable musicians (and the list is large) who performed on THE REAL THING: Bassist Reggie McBride (Tony Bennett, Keb' Mo'), backing PEACH as she serenades on "Beyond My Wildest Dreams;" Garth Hudson (The Band) on keyboards, saxophone, and accordion); James Gadson (The Temptations, Beck) and Gary Mallaber (Van Morrison, Bruce Springsteen) on drums; Cece Worrall Rubin (Diana Ross, Guns n' Roses) on baritone saxophone; Paul Barrere (Little Feat), Jon Woodhead (Leon Russell), and Rick Vito (Fleetwood Mac), all on slide guitar; Amos Garrett (Stevie Wonder, Maria Muldaur) on guitar; and horn arrangement by Lee Thornburg ( THE TONIGHT SHOW band, Tower of Power) on "Someone Else Is Steppin' In."
PEACH is a dynamic live performer: "From the first note, the band displayed their talents admirably," wrote Pat Benny in SOUTHBOUND BEAT, reviewing a show at Martini Blues in Huntington Beach. "One of the many highlights of the evening, "Angel From Montgomery," belonged to PEACH. Her vocal rendition of the John Prine song was appropriately moving...she has a gentle voice but is capable of sustaining a note with ease. Her voice is unique for the blues, and her original compositions and clever treatments of classic material make listening to PEACH a pleasure," Benny concluded.
PEACH is the co-founder of "Rock 'n Cure," an annual event she produces and performs in to benefit Cedar-Sinai Medical Center's breast cancer and stem cell transplant research. The first "Rock 'n Cure" event at the House of Blues/L.A. - co-headlined by PEACH and longtime SoCal blues band, The Delgado Brothers - raised $78,000.
PEACH INTERVIEWS, THE REAL THING CDS, AND PRESS KITS AVAILABLE.
www.peach.us - www.myspace.com/peachblues
Where: The Big Fish in Glendale
When: 12 Noon- 12 Midnite
Event Dates: This event takes place on 2/25/2007.
###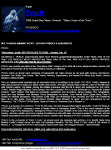 Original Source: http://www.chrisbellblues.com/B-F-B-F-2007/more-info/info-peach.htm