With long blond hair flowing, tan leather boots tapping and polka dotted nylons glistening under the stage lights. Award winning rhythm and blues recording artist PEACH took to the stage at The Blue Bar in Agoura Hills.
It's easy to understand why blues enthusiasts as well as practitioners have embraced and welcomed PEACH into the blues community. She has an appealing rich sultry voice and knows her way around a guitar neck squeezing out soulful, bluesy licks that punctuate and sizzle with precision. She was accompanied by three gifted and capable musicians. Del Atkins on Bass. Atkins has performed bass for Nora Jones, Alicia Keys and Mary J Blige. Jim Calire on keyboard and saxophone. Calire is known for his work with America and Raven. And, John Mollo on drums. Mollo has laid a solid beat down for everyone from Phil Lesh to John Fogerty. It's pure joy watching these accomplished musicians doing what they do best together and clearly loving every minuet of it.
PEACH breezed through an eclectic range of original compositions like the slow groove break up song "Dance With Me Henry" and "Starin' You in the Face" which was accented with just the right measure of sassy slide guitar. Note worthy credit also goes to PEACH and company for praise worthy renditions of some classics like the John Prine ballad "Angel from Montgomery" and the great Mack Rice standard made famous by Wilson Pickett "Mustang Sally." Keyboard and saxophone band member Calire took the helm on a couple of vocal leads with the rollicking Jimmy McCracklin tune "Think" and Taj Mahal's little gem "Gonna Move up to the Country."
PEACH likes to use all capital letters on her name and never uses her last name. She grew up in a musical household back in Anderson Indiana. Although PEACH has played everything from jazz to rock and performed solo for a few years, she realized that rhythm and blues is where her passion is. "What I love about playing the blues is that it's simple and straight up, which is how I like most things. As you get older, you don't like to waste time doing things that you don't like to do" said PEACH.
This is a woman who clearly enjoys what she does and appears to live by her convictions which included going into a ten year musical remission as she puts it to raise her daughter. PEACH is also the co-founder of Rock 'N Cure an annual event she produces and performs in to benefit Cedar Sinai Medical Center's breast cancer and stem cell transplant research. To date she has raised upwards of $200,000.
PEACH recorded The Real Thing CD, which is an impressive collection of songs produced by the well respected studio guru Marty Grebb ( The Band, Bonnie Raitt, Etta James.) Grebb also co-wrote with PEACH a couple of tracks on the CD which features a duet on the title track with Grammy winner Taj Mahal who also plays guitar and harmonica on the song. There are a number of other notable musicians who performed on the CD as well which include. Garth Hudson (The Band) on keyboards, saxophone and accordion. Bassist Reggie McBride (Tony Bennett) James Gadson (The Temptations, Beck) and Gary Mallaber (Van Morrison, Bruce Springsteen) Cece Worrall Rubin (Diana Ross, Guns and Roses) on baritone saxophone. Jon Woodhead (Leon Russell) Paul Barrere (Little Feat) and Rick Vito (Fleetwood Mac) all on slide guitar. Amos Garrett (Stevie Wonder, Maria Muldaur) on guitar. And, horn arrangements by Lee Thornburg (The Tonight Show band, Tower of Power.)
You can find out more about the talented Los Angeles based musician PEACH and acquire her highly acclaimed CD "The Real Thing" as well as a PEACH live recording CD from her website at. www.peach.us
###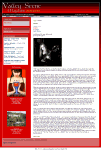 Original Source: http://www.valleyscenemagazine.com/music/peach.htm