A Night In Copenhagen is PEACH's live recording album with the Almost Blues Band released AUG 2016.

During February of 2016, American blues singer and guitarist Peach Reasoner returned to Copenhagen to play with her band at her favorite club, the cozy Café Bartof. Club owners Joacim "Jokke" Friss Holm and Charlotte Bertelsen had graciously agreed that recording equipment could be brought for a live recording session.

Peach and The Almost Blues Band invited keyboard player and composer Ken Stange (Joe Cocker, Roger Miller, Jose Feliciano) to come over for the recording. Ken Stange had played with PEACH for many years in her Los Angeles band. Ken plays piano, organ and harp. The result of the live recording is called A Night in Copenhagen. During that time of year, Denmark is cold and dark... but the love in that room was the reason for the journey.

A Night In Copenhagen was released as a CD on 09 AUG 2016 (Magic Music), and is now also available as a complete album or individual tracks by digital download.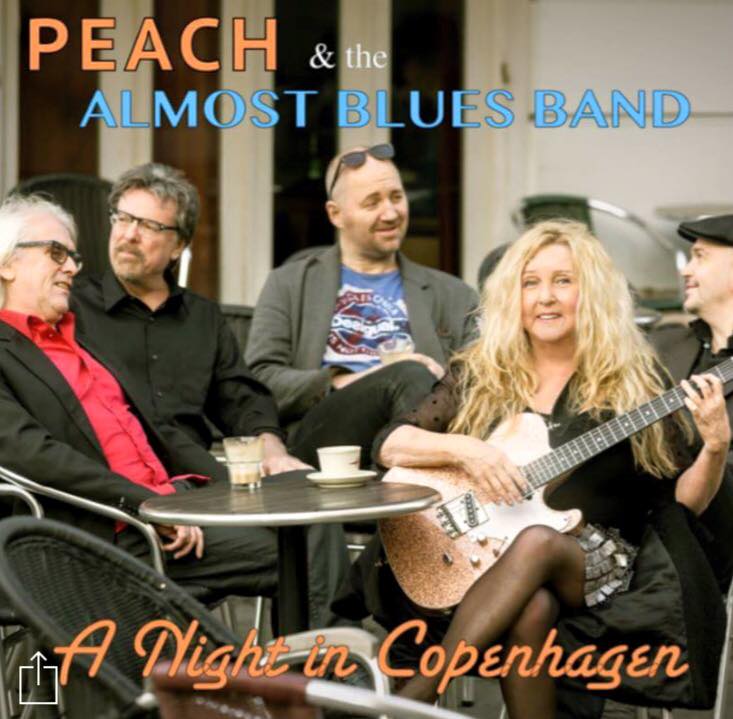 Purchase a CD with FREE SHIPPING WORLDWIDE! ORDER NOW →
Also on iTunes and Amazon as full album or individual track downloads!
Enjoy a sample - "Come Up And See Me Sometime"
Personnel:
Lead Vocal and Guitar: Peach Reasoner USA
Guitar and Backing Vocals: Michael Engman Rønnow
Bass and Backing Vocals: Helge Solberg
Drums: Niclas Campagnol
Special Guest: (keys, harp) Ken Stange USA
Track Selection:
Tonight I'll Be Stayin Here With You (Bob Dylan)
Never Make Your Move Too Soon (Will Jennings/Nesbert/JR Hooper)
Little By Little (Mel London)
Love-Itis (Harvey Scales/Albert Vance)
Tell Me You Love Me (Peach Reasoner)
Come Up And See Me Sometime (Danny Timms/Jodi Siegel)
Same As I'm Over You (Paulie Cerra)
Ain't Got No Money (Frankie Miller)
Total Running Time: 36:28